Category Archives:
MTT Plays
14th April 2018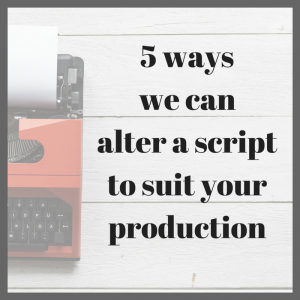 At Murdering The Text, we aim to do all we can to help you with your murder mystery fundraisers so over the years, we've made customer-requested alterations to many of our scripts.
If you want to buy one of our murder mystery scripts but they're not quite the right fit for your cast or event, here are just five of the ways we can alter them to suit:
1. Cut down the number of characters
When we originally wrote The Blunt End for a high school in the south of England, they asked us to write for a much larger cast than usual so that all of their interested pupils could take part. The resulting cast added up to 15 named characters and additional performers too.
A couple of years later we were approached by a group who loved the idea of the play but had a more modest cast. We took a fresh look at the script and reduced the cast down to a suitable 8 characters. We now offer this reduced cast version of The Blunt End in our catalogue of plays.
2. Change the gender of characters
The Waxworks of Horror was originally written with a cast of 2 female and 3 male actors (with an additional screaming individual sprinting across the stage). When a long time customer came to us with the problem of no available male actors, we altered the play to have an all-female cast. This version is now available for purchase on request.
3. Fit your stage
Having problems fitting one of our plays to your stage? Perhaps you have limited stage space or entrances. Forward us your stage layout with possible exits and access points, and we'll alter the script to suit your venue. It might even be that you can't fit or transport certain furniture items onto your stage. We'll think up a new list of furniture to suit.
4. Alter the dialogue
Whether you feel a piece of dialogue is too naughty or otherwise unsuitable for your audience, or you want to add in a couple of your own jokes or a local mention, we're happy to help. Perhaps one of your actors wants a smaller part, or you'd like to add in a new character. Whatever the reason, we'll readily rewrite sections of our play to suit your cast and production.
5. Scripted reveal
We like to think that the ad-libbed quality of the question time, when the audience interrogates the suspects, adds an excellent opportunity for your cast to show their knowledge of their character and make the production unique to your group but if you'd prefer to have a scripted reveal, perhaps delivered by a detective-type figure, then we're happy to supply this as part of your event pack.
Get in touch
If you want to make alterations to any of our scripts, then please feel free to drop us an email. Any alteration is free of charge and made in discussion with you.
21st August 2017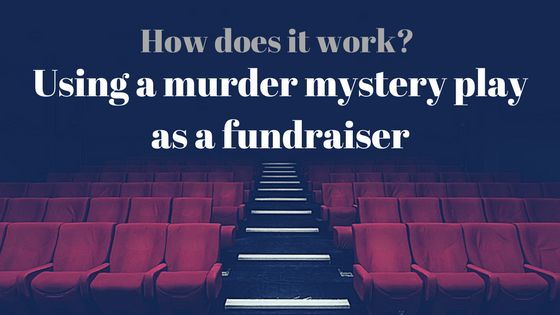 It's been twenty years since we wrote and performed our first murder mystery to raise funds for the amateur dramatics group we were part of back then, and I've seen the use of whodunnit events grow in popularity ever since.
I'd love to say we started a trend but the murder mystery fundraiser phenomenon was already a thing, albeit much less popular and polished than today.
Having customers throughout the UK, in Canada and the USA, and seeing as we're just one of a community of worldwide murder mystery script providers and performers, I'd assumed that everyone understood what a murder mystery fundraiser event was.
A recent comment proved me wrong though, when one lady was puzzled by our website because she didn't know that a murder mystery play could be used as a fundraiser. She assumed that any theatrical production would be too expensive to be used in this way.
This got me thinking. Am I presuming too much of visitors to our website, amateur dramatics groups and fundraisers that they would already know of the existence and effectiveness of murder mystery events?
Perhaps an explanation is needed.
What is a murder mystery fundraising event?
There are generally two ways in which a murder mystery can be used as a fundraising event:
The audience watch a murder mystery play. With the assistance of the compere, the audience questions the suspects and then deduces the identity of the guilty party.
The actors (in character) mingle with the 'audience' at an event such as a party or dinner. A murder is staged and the audience carry out their own investigation to find the murderer.
Our kind of murder mystery falls into the former of these two. We sell murder mystery play scripts, with accompanying information such as character histories, clue material and murderer sheets.
The customer (amateur dramatics groups, PTA organisations, small charities) purchases our murder mystery pack and uses it to hold a murder mystery event to raise money for their group or cause.
How can you make money from a Murdering The Text murder mystery event?
Our murder mystery scripts are written to be low cost productions.
Black curtains can be used as a backdrop rather than the normal scenery. Costumes can be drawn from your cast's personal wardrobes or, in the case of an amateur dramatics group, created from your existing stock. Even the furniture and props are items that can be easily sourced at little or no expense.
For information on how to source costumes for period productions, read our post Dressing It Up.
Most of your income will be earned from ticket sales (the price will reflect whether the ticket covers the performance only or includes a buffet, bar or three course dinner) but you can also run a bar and hold a raffle for extra income.
Prizes for your raffle and aspects of your production such as publicity, bar license or printing, could be gained through sponsorship by local businesses.
For more information read our page, Ten reasons to hold a murder mystery event.