Category Archives:
Fundraising Advice
30th November 2017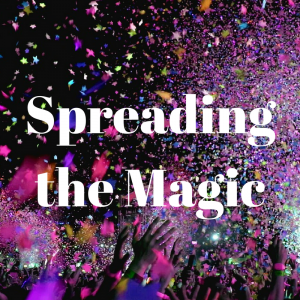 I've always thought it strange that a play should stop at the edge of the stage, and thinking back to my favourite customer productions and murder mysteries that I've taken part in, they've all gone beyond the boundary of the proscenium arch in one way or another.
Whatever the show format (drama play, comedy, musical, revue), there are always ways to extend the production out from the stage into the rest of the auditorium and ultimately enrich the audience's experience.
1. Introductory and Interval Music
This is a wonderful chance to get your audience in the right mood for the tone of your production.
If you'll be performing musical numbers, treat them to snippets of those songs.
If your play has a particular setting – circus, railway, zoo – then play music that is linked to that setting.
Music of the period of your murder mystery can prepare your audience for a play set in the 1960s or 1920s, for instance.
Play music of the correct mood. In our play On Her Way Out, a comical murder mystery set at an outward-bound centre, our characters run on and begin exercising to the rousing tones of 'Something for the Weekend' by Divine Comedy.
2. The Auditorium
Can you extend your stage set into the auditorium and visually pull your audience into the setting of the play?
A production about a street party could see bunting extend from the stage into the auditorium.
The decorations from a wedding – flowers, balloons, etc – could be used on the end of audience seating rows.
Other themes – Hallowe'en, railway, Christmas – can be used to decorate the auditorium too.
3. Front of House Staff
Why should the actors have all the fun?
Your front of house staff – bar, food servers, compere, ticket takers – can add an extra element to the magic by dressing up to suit your production.
They could be wedding guests at a production set at a wedding.
At a Hallowe'en production, a staff of witches, ghouls and werewolves would be fitting.
Let them act out their roles too. It all adds to the fun.
4. Food, Bar and Merchandise
In our play A Show To Die For, one of the characters alludes to the confectionery, Sherbet Dip, so at the first production, we had a box of Sherbet Dips for sale on our bar.
At another production, we made up cocktails with the characters' names.
Even your raffle, if you hold one, can include items that link into your production.
Have fun matching the food, drinks and merchandise to your show.
5. Interval Entertainment
Add to the night's entertainment with some activities during the interval.
In Bad Fortune, the murder victim is a fortune teller. Have a comedy fortune teller (who gives equally comic fortunes) set up in the auditorium.
If you're performing a period play (1960s, 1980s), have a trivia quiz for that era.
For a wedding themed murder mystery, have a wedding disco or a wedding singer.
Making your audience a part of your production will not only enliven the evening but also ensure that they come back for more.
13th September 2017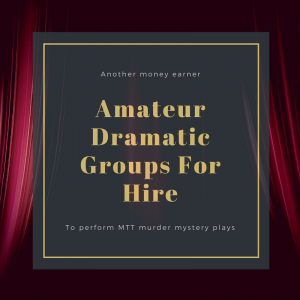 Once you've tried your hand at a couple (or more) of our scripts, the word tends to spread.
You'll find your audience looking forward to your next murder mystery night, even asking you when it will be.
You're not merely a group that performs hilarious pantomimes and entertaining plays. You now have another arrow in your theatrical quiver – your whodunnit events.
You could leave it at that, simply sharing your brilliant new fundraising scheme with your loyal audience.
Or, you could take it out into the wider world by hiring yourself out to perform murder mystery evenings for fundraising organisations such as parent and teacher associations or local charities.
The result will be not only extra funds but also a wonderful way to publicise your group.
It can even become a regular arrangement. One of our Yorkshire clients holds an annual murder mystery event for a local PTA, and have done for years.
If this sounds like the perfect opportunity for you, then we can help.
We hold a list of amateur dramatics group who hire themselves out to perform Murdering The Text plays. What's more, this is an entirely free service, a gift from us to you.
We regularly publicise this list on Facebook and Twitter.
Visit the Amateur Dramatics Groups For Hire page on our website to find out which groups are using this service already.
If you'd like to join our list, drop me an email with the following details:
Group name
The geographical area you cover
Contact details
Group website
21st August 2017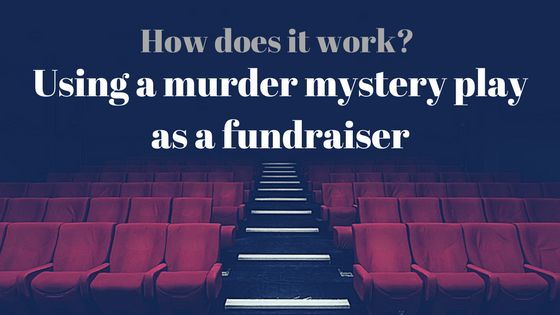 It's been twenty years since we wrote and performed our first murder mystery to raise funds for the amateur dramatics group we were part of back then, and I've seen the use of whodunnit events grow in popularity ever since.
I'd love to say we started a trend but the murder mystery fundraiser phenomenon was already a thing, albeit much less popular and polished than today.
Having customers throughout the UK, in Canada and the USA, and seeing as we're just one of a community of worldwide murder mystery script providers and performers, I'd assumed that everyone understood what a murder mystery fundraiser event was.
A recent comment proved me wrong though, when one lady was puzzled by our website because she didn't know that a murder mystery play could be used as a fundraiser. She assumed that any theatrical production would be too expensive to be used in this way.
This got me thinking. Am I presuming too much of visitors to our website, amateur dramatics groups and fundraisers that they would already know of the existence and effectiveness of murder mystery events?
Perhaps an explanation is needed.
What is a murder mystery fundraising event?
There are generally two ways in which a murder mystery can be used as a fundraising event:
The audience watch a murder mystery play. With the assistance of the compere, the audience questions the suspects and then deduces the identity of the guilty party.
The actors (in character) mingle with the 'audience' at an event such as a party or dinner. A murder is staged and the audience carry out their own investigation to find the murderer.
Our kind of murder mystery falls into the former of these two. We sell murder mystery play scripts, with accompanying information such as character histories, clue material and murderer sheets.
The customer (amateur dramatics groups, PTA organisations, small charities) purchases our murder mystery pack and uses it to hold a murder mystery event to raise money for their group or cause.
How can you make money from a Murdering The Text murder mystery event?
Our murder mystery scripts are written to be low cost productions.
Black curtains can be used as a backdrop rather than the normal scenery. Costumes can be drawn from your cast's personal wardrobes or, in the case of an amateur dramatics group, created from your existing stock. Even the furniture and props are items that can be easily sourced at little or no expense.
For information on how to source costumes for period productions, read our post Dressing It Up.
Most of your income will be earned from ticket sales (the price will reflect whether the ticket covers the performance only or includes a buffet, bar or three course dinner) but you can also run a bar and hold a raffle for extra income.
Prizes for your raffle and aspects of your production such as publicity, bar license or printing, could be gained through sponsorship by local businesses.
For more information read our page, Ten reasons to hold a murder mystery event.