Category Archives:
Fundraising Advice
30th May 2017

Our main aim here at Murdering The Text is to assist you in raising much needed funds for your group or cause.
Our extensive catalogue of plays offers a perfect opportunity to combine a little (or more) profit with a fun event that will entertain your cast as much as your audience.
We offer murder mysteries, non murder mysteries (no dead bodies, just a crime to solve), our full length murder mystery play Slay Bells and even a pantomime, our version of Cinderella.
We also provide a Custom Written Script Service, should our current plays not fit with your cast, stage or event theme, working with you to create a script to suit your needs.
Many of our current plays have been custom written for our customers, our recent 'A Brush, with Death' being just one of them.
So, you've held a murder mystery event and it went down a storm. In fact, it went so well that you'd like to do it more often. Add your group's details to our list of Amateur Dramatics Groups for Hire to perform Murdering The Text plays. We regularly publicise this list on Facebook and Twitter (in addition to here on our website), completely free of charge.
Finally, having acted in these plays ourselves, we're more than happy to share our experience of how you can enrich your events and raise extra funds beyond your ticket sales. With each event pack that you buy, we'll send you a free fundraising sheet listing suggestions linked to each particular play, plus some general ideas that will apply to most amateur productions too.
Have I missed anything? If so, just drop me an email. I'd love to hear from you.
Fiona
5th October 2012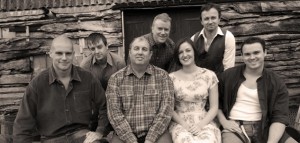 Swansea Little Theatre has just joined our list of groups for hire to perform Murdering The Text events. Based in Swansea, South Wales, this award-winning group performs a diversity of plays which in 2012 have ranged from Shakespeare to thriller to their December planned production of A Christmas Carol. They also provide a number of set evenings to accompany any dinner or gala event that you may wish to hold, including some spectacular murder mysteries.
Visit their website, email them at info@swansealittletheatre.org.uk or ring them on 01792 473238 for more information.
11th May 2011
An integral part of any theatre performance – and an often forgotten member of the cast – is your stage setting. It adds depth to the magic of any show, whether your stage is set back behind a proscenium arch, thrusting out into your audience or in an outdoor setting. Amateur groups in particular have the added challenge of balancing cost with effect, creating a fitting backdrop for their performances without emptying the coffers. Flats (stand alone pieces of set) are demolished, reshaped and repainted; scenery panels are similarly refurbished and props are put to further use. I have been lucky enough to meet some marvellous teams of set designers and builders, individuals who put their hearts into researching their sets, weighing up the costs and resources to hand, and using their construction talents to create fine, polished end results. There is a downside to such enthusiasm however.
Many years ago, I attended a performance of one of our murder mysteries, 'The Crossed Swords'. The play is set in the 1960s, in a Yorkshire countryside tavern. As with all of our plays, we wrote 'Crossed Swords' to include the barest of props, the only exception being the need for a bar and a chair with a broken base. Other than that, nothing would be difficult to come by. The majority of the furniture and props would most likely be part of any group's existing stock. Suitcases could be supplied by cast members as could clothes.
This particular group were known to be quite wealthy, with a large membership, and also quite traditional in their performances. There's nothing wrong with any of these qualities but they no doubt coloured the group's approach to producing our play. Rather than realising the opportunity to create a low cost and thus profitable event, they treated the play like they would any other, spending as much on it as they would for a normal production. The result was an outstanding, authentic stage set that would have suited a professional, city theatre. A lot of time and energy had obviously gone into its construction and the choosing of props and costumes. It all looked marvelous.
We had a wonderful evening. Every seat was filled (in fact they had to turn some people away who arrived without tickets). The buffet was first class and there was plenty of wine to be had (plus soft drinks for the drivers of course). The compere did an excellent job, welcoming the audience and rousing them into questioning the suspects. All in all, everyone had a thoroughly enjoyable evening.
A couple of weeks later, I spoke to the director of the show who told me how much they had enjoyed performing the play and that the village was still talking about it all. Unfortunately, after tallying up takings against expenses, they found out that the group had not made the profit they had hoped for. They had, in fact, made a loss.
Our plays are written to be low cost events that help you raise sufficient funds to stage the plays you 'want' to perform. Keep your expensive sets and costume hire for your major productions and dust off the black curtains for murder mystery nights.