Category Archives:
Am Dram Advice
30th November 2017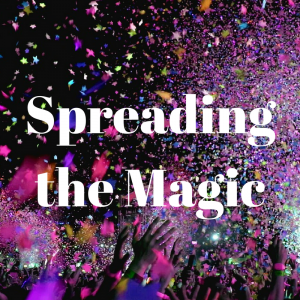 I've always thought it strange that a play should stop at the edge of the stage, and thinking back to my favourite customer productions and murder mysteries that I've taken part in, they've all gone beyond the boundary of the proscenium arch in one way or another.
Whatever the show format (drama play, comedy, musical, revue), there are always ways to extend the production out from the stage into the rest of the auditorium and ultimately enrich the audience's experience.
1. Introductory and Interval Music
This is a wonderful chance to get your audience in the right mood for the tone of your production.
If you'll be performing musical numbers, treat them to snippets of those songs.
If your play has a particular setting – circus, railway, zoo – then play music that is linked to that setting.
Music of the period of your murder mystery can prepare your audience for a play set in the 1960s or 1920s, for instance.
Play music of the correct mood. In our play On Her Way Out, a comical murder mystery set at an outward-bound centre, our characters run on and begin exercising to the rousing tones of 'Something for the Weekend' by Divine Comedy.
2. The Auditorium
Can you extend your stage set into the auditorium and visually pull your audience into the setting of the play?
A production about a street party could see bunting extend from the stage into the auditorium.
The decorations from a wedding – flowers, balloons, etc – could be used on the end of audience seating rows.
Other themes – Hallowe'en, railway, Christmas – can be used to decorate the auditorium too.
3. Front of House Staff
Why should the actors have all the fun?
Your front of house staff – bar, food servers, compere, ticket takers – can add an extra element to the magic by dressing up to suit your production.
They could be wedding guests at a production set at a wedding.
At a Hallowe'en production, a staff of witches, ghouls and werewolves would be fitting.
Let them act out their roles too. It all adds to the fun.
4. Food, Bar and Merchandise
In our play A Show To Die For, one of the characters alludes to the confectionery, Sherbet Dip, so at the first production, we had a box of Sherbet Dips for sale on our bar.
At another production, we made up cocktails with the characters' names.
Even your raffle, if you hold one, can include items that link into your production.
Have fun matching the food, drinks and merchandise to your show.
5. Interval Entertainment
Add to the night's entertainment with some activities during the interval.
In Bad Fortune, the murder victim is a fortune teller. Have a comedy fortune teller (who gives equally comic fortunes) set up in the auditorium.
If you're performing a period play (1960s, 1980s), have a trivia quiz for that era.
For a wedding themed murder mystery, have a wedding disco or a wedding singer.
Making your audience a part of your production will not only enliven the evening but also ensure that they come back for more.
30th October 2017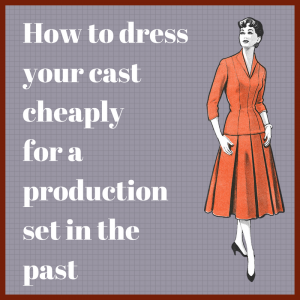 Vintage? Retro? Whatever you call it, dressing your actors for a play that is set in the past can be a nightmare.
One option is to hire costumes from your local theatre, theatrical costume supplier, or fancy dress shop, but that can be expensive.
When you're trying to keep costs down to make the maximum profit, the last thing you want to do is spend a fortune on costumes.
Several of our plays are set in past decades.
1920s – Thoroughly Murdered Millie
1940s – The Butcher, the Baker, the Candlestickmaker
1950s – The Tangled Web and Crowning Glory
1960s – The Crossed Swords
1980s – A Brush, With Death
When it comes to costumes, an era can be hinted at by the use of certain shapes and details.
A 1920s look could feature low waisted dresses and cloche hats.
World War Two British fashion was affected by rationing and all about the concept of utility. Women's fashion featured square shoulders and shorter skirts, with very little detail.
The 1950s was similar but with more detail and using better quality materials. The end of rationing meant more fabric too. Classic shapes were the full skirt or the pencil slim tubular skirt.
For the 1960s, it could be mini skirts, Mary Quant bobs or geometric prints.
Fashions come around again and again. If we aren't revisiting the 1970s, then Victoriana is making an appearance, so ask your actors to search through their wardrobes for clothes that are either sufficiently classic to not lend themselves to a specific era, or just the right shape for, say, a 1920s flapper girl or a second world war bank manager. Obviously vintage items would be ideal but we're not all that lucky.
Alternatively, if your group has an existing wardrobe of costumes from past productions, there may be items there that you can use or adapt. Most am dram groups have a whole host of pantomime costumes, for instance, which usually include the basic white blouse and coloured A-line skirts worn by chorus members. Is there anything that could be altered to suit your production?
Finally, if you really have to spend some money, then charity shops can be a haven for vintage and vintage-look clothing, or even just items that can be altered.
It doesn't have to cost a fortune to dress your cast for a production set in a past era.
Don't be held back by having the exact look when a gesture to the period you're playing will serve just as well.
Useful Links
Costume Gallery Research Library
19th September 2017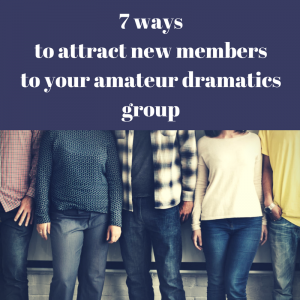 Most amateur dramatics groups will have a loyal membership but numbers can fluctuate for many reasons.
Teenage members leave the area to attend university. Elderly members retire from treading the boards. People move away from the area. Work commitments come first.
Even if your membership numbers remain stable, your am dram group may still need new members so that you can perform that play/musical you've been dying to try out.
So, how exactly do you attract fresh talent to your group?
1. Advertise on amateur dramatics related websites
There are plenty of them out there if you look, and many of them feature adverts and listings. The benefit of advertising for new members on these websites is that you know you're talking to an interested audience.
Here are just a few:
2. Social Media
Even if your group doesn't have a website, you're sure to be using Facebook and possibly Twitter too.
Add an article to your blog page, or a new banner to your home page. You can then direct traffic from your Facebook page and Twitter feed to your website.
In fact, post separate adverts on any social media feed you use as well as your website.
Don't be shy in extolling the theatrical virtues of your amateur dramatics groups to attract new members. Tell them exactly how wonderful being a member of your group is.
And remember to share your social media links, and continue to share them just in case prospective new members didn't see them the first time around.
Ask your current members to share the new members advert on their social media feeds too.
3. Posters in local shops and on notice boards
Your group may well have links with the shops and organisations in your community, so pull in a few favours.
Will the local newsagent put a poster up in their window? What about the nearest supermarket (or supermarkets – the more the merrier)? Is there a local coffee shop or pub who will display the poster indoors where drinkers can see it as they sup?
Don't forget any local noticeboards too. Contact the people who control what appears there and ask if they'd include a poster.
4. Local press and radio
Getting the local press and media onboard can be a scary prospect for am dram groups.
Perhaps you think it's only acceptable to approach them when there's a show involved or that your need for new members isn't real news. Not so. The press and media are always after a story so give them one.
It might be that you need new members for a particular show. Chatting on the local radio station will not only allow you to appeal for new members but get a mention in for your play or musical too.
Frame your need for new members in a way that makes it newsworthy.
If you've dealt with a particular press journalist or photographer before, then contact them.
Make it a win win for everyone involved. You get the coverage. They get a story.
5. Advertise in show programmes
You control what is included in your show programmes so take advantage of this free advertising opportunity.
You have a willing and receptive audience for your advert because these are people who have paid to watch your group perform. They want to be there.
What's more, once the show is over they have a physical reminder of your advert in the form of the show programme (which hopefully they'll take home with them).
They also know your group from the show they've seen so the prospect of joining won't be as scary as coming to the group completely cold.
Equally, knowing your group, they're more likely to tell other people about your search for new members.
6. Ask current members to spread the word
Most of your members will know of someone who has expressed an interest in getting involved in amateur theatre, or who has skills that would be useful for the group.
Ask your members to ask around their circle of friends and contacts. It could be a school friend, an aunt, the local vicar or a husband.
Better still, ask your members to bring someone along to a group meeting so they can see for themselves, but with the support of a familiar face, how brilliant your group is.
7. Approach local drama classes and courses
These will usually be run by further or higher education institutes such as colleges and universities, but you might also come across night classes run at community centres or schools too.
Don't assume that just because people are paying to study drama, they won't be interested in being part of an amateur theatre group. Acting experience is just that – experience.
Approach the organiser of the course or class and ask if you could leave a poster with them, or better still go into one of the classes and chat to the students about your group.
However you decide to search for new members, don't forget to keep it warm, welcoming and inclusive.
Good luck.