Category Archives:
Chit Chat
17th July 2017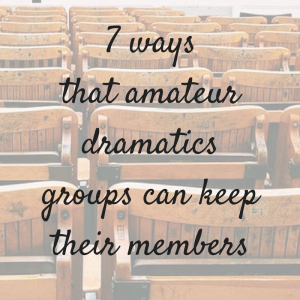 Any theatre group is only as good as its company of members, and this is doubly so for amateur dramatics groups.
So how can you maintain your membership numbers?
1. Stay in touch
Most amateur dramatics groups these days have some form of online presence. It could be a website, a Facebook page, a Twitter account or a combination of all of those.
A notice on your website or Facebook page, an emailed newsletter or even a text is an ideal way to not only keep your members up to date with what's happening with your group, but ensure they feel like a part of your am dram community too.
Physical newsletters can be handed out at group meetings, and what's stopping you arranging social nights out for your members too?
2. Listen to your members
You may well have a committee and a youth representative for your younger members, but there's nothing to stop you actually asking for the opinions of your members as a whole.
What shows would they like to perform? Would they like to take on different roles within the group (from actor to lighting technician, or from backstage to director)? How would they like to see the group develop?
If you want members to stay interested in your group, then give them a say in its future.
3. A role for every member
There's nothing worse than enthusiastically joining an am dram group, then finding that there's no role for you for two thirds of the year.
If a member isn't cast in a production, or isn't available for a portion of time, then ensure that they are involved in the next production.
Involvement doesn't have to be onstage. There's the backstage crew, the production team, marketing and publicity, and so much more. Don't lose members because they feel they're not wanted.
4. Choose plays that fit your cast
Of course, there will always be plays that the group/chairman/committee/director is keen to perform but there is no sense in deciding on a play that you can't cast.
The flip side to that is choosing a play that has a small cast and will leave many of your actors without roles. If you choose a small cast play for one production, then make sure that your productions for the rest of the year will give your other actors a chance at a part.
5. Put them in charge
Encourage your members to organise side events, such as fundraisers.
Acting on behalf of the group, and in agreement with your committee, group members can take the weight off the chairman and co by setting up their own events such as bingo nights, sponsorships through work, and nights out for your members.
Giving them this responsibility will strengthen their commitment to the group and make them feel a real part of your am dram community.
6. Include their friends and family
Don't limit the involvement of members' friends and family just to ticket sales. Ask if they'd like to help backstage, front of house or with creating props.
If you have child and teen members, then their parents will probably already be involved with ferrying them around and sourcing costume items. Show them that you appreciate their help through free entry to one show a year or one of those side events.
7. Congratulate them on a job well done
This is something that is often forgotten. Yes, of course, your members attend your am dram group because they want to be involved in your shows but remember how much they give to the group (including their membership fees) and show them that you appreciate their time and effort.
Tell them how much their involvement means to the group. Congratulate them on yet another, brilliant production. Have an after-show party for them all.
Make it a win-win scenario all round and your members will keep coming back show after show.
8th July 2017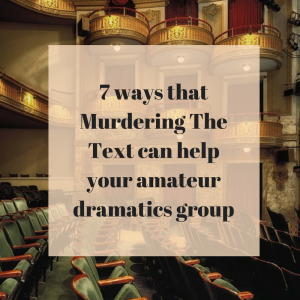 Think our plays are just like all the others? Assume you'll receive the same impersonal service that some of the big play script suppliers provide? Are you under the impression that performing one of our plays will simply bring in some money and have no other benefits? Well, think again.
1. Short but perfectly formed
Our plays are written to take up only part of your murder mystery evening. Depending on the play, they vary from 20 minutes to up to 45 minutes. This allows time for the compere to do their thing, question-time and audience breaks. There's nothing worse than being hurried through an evening of entertainment.
Another benefit of using a shorter script is the time required to learn lines. Rehearsals times (and the related costs of practice space) can be reduced, adding to the eventual profit your event will make.
2. A Snug Fit
Our typical cast is 6 or 7 characters, male and female. The characters are written to fit the available actors of most theatre groups, with a mixture of ages and genders.
Although the characters are created with an age range in mind, most of them can be changed to fit your actors if needed, and we're always happy to help if you need the character histories or scripts to be altered.
3. A Home from (your) Home
With our scripts, you don't have to worry about expensive sets. Black curtains can be used instead of backdrop scenery for all of our plays.
Furniture and props can mostly be drawn from your group's existing supplies, what you have at home, or what's available in your performance space. Even the exits are flexible to fit your stage and venue.
4. We work with you
If none of our plays fit your needs (or perhaps you've performed all of them already), we're happy to work with you to create a new play to suit your venue, resources, cast and event. Have a look at our Custom Written Scripts page for more information.
5. Everyone loves free publicity
Are you one of many amateur dramatics group in your area? Are you fighting for attention in the local press over all those other productions?
Even if your group is the lone am dram talent locally, or you have no problems with publicity, performing something that's a little different to the norm is an excellent way to be featured in the local newspapers.
6. More bums on seats
Provide a new way to connect with your current audience by holding an annual (or even bi annual) murder mystery fundraiser. This interactive show will allow them to see your group in a completely different light.
Want to grow your audience? A murder mystery evening may attract people who wouldn't have considered attending your usual shows. Once you've introduced them to the talents of your group, they may well come along to your plays, musicals and pantomimes throughout the rest of the year too.
7. Maintain your membership
Maintaining membership numbers isn't just about having an available cast. Membership fees are an important factor in keeping the am dram coffers full.
For group members who haven't been cast in the latest production, or whose available time is limited, performing in a murder mystery evening may be just the thing. So, rather than losing uncast members to other groups, give them a part in your fundraiser event. The same goes for backstagers and members who can act as compere or front of house. Keep your members happy and they'll keep coming back for more.
27th June 2017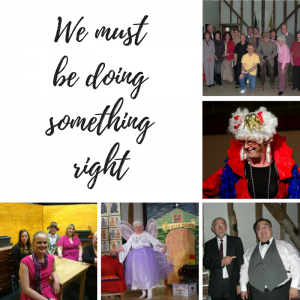 Since we started writing murder mystery scripts back in 1997, our customer base has grown from two amateur dramatics groups in the York area, to a whole range of amateur dramatics groups, small theatre companies, PTAs, schools, church groups and small charities throughout the UK and even in Canada.
We are contacted by new customers every year but we also have a community of long-time customers who return to us on a regular basis to buy our new plays, many of them custom written.
We have twenty three plays in our catalogue, including one full length murder mystery, a pantomime, two mystery scripts and nineteen murder mystery fundraiser scripts.
The majority of our plays are custom-written to suit a customer's cast, theme, setting or other available resources. In fact, working with our customers to develop a new script is one of the best parts of running Murdering The Text.
Want to know some facts about our scripts? How about our most performed plays and the latest additions to our catalogue?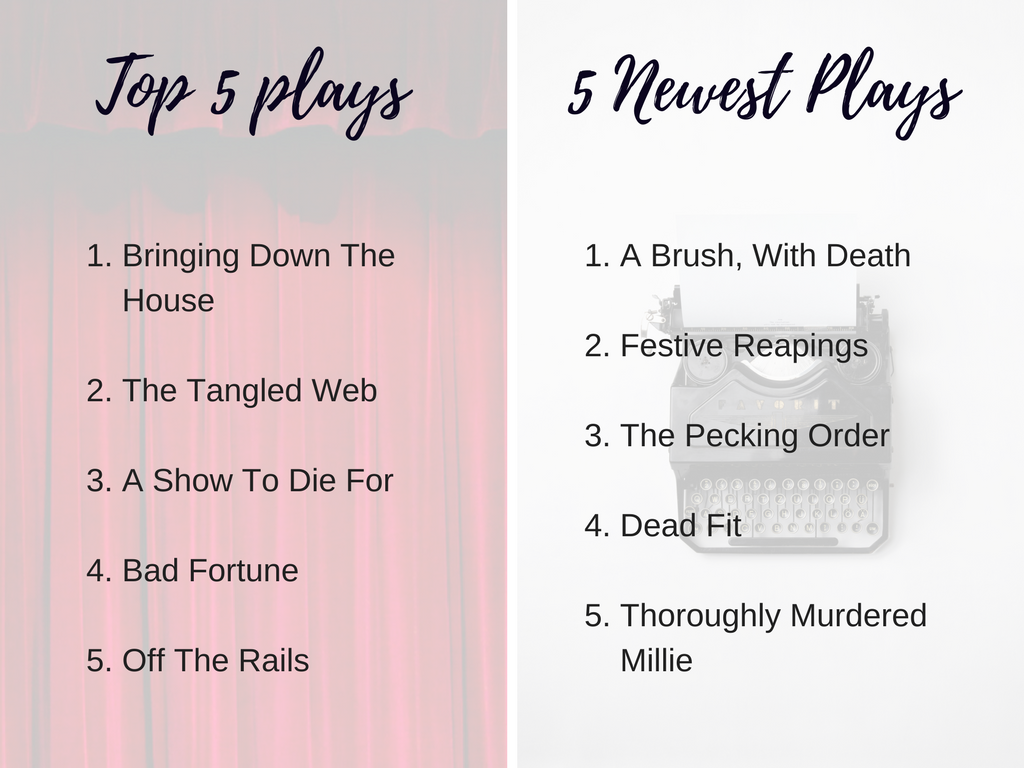 Our plays are set in the 1920s, World War Two, the 1950s, the 1960s, the 1980s and the present day.
We have two all female cast plays – Hens and an all female version of Waxworks of Horror.
We also have two sets of paired plays – Waxworks of Horror and Bride and Doom, and The Tangled Web and our latest play A Brush, With Death.
We'd like to say thank you to our loyal customers, for all your help and support over the years, and hello to any new customers. Happy to have you on board.
Twenty years has gone in the bat of a murderous eye. Here's to twenty more, an ever growing catalogue of plays, and a continuing conversation with our customers.