Category Archives:
Chit Chat
8th June 2018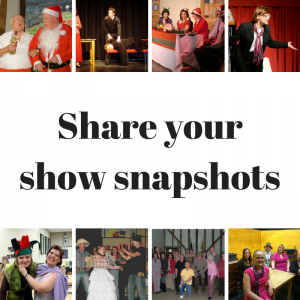 One of the best parts of running Murdering The Text is getting to see how each group makes our play their own. That's why we love to see photos of your rehearsals and shows.
If you're happy for us to display your photos, then send them in and we'll add them to the gallery on our Facebook page.
16th March 2018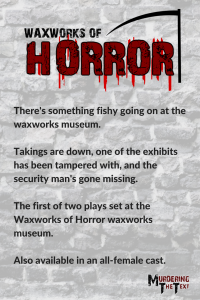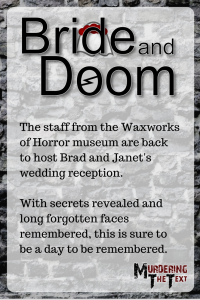 I know, I know, the weather hasn't even turn spring-like yet but planning your autumn production now leaves you with plenty of time to get things organised.
So, getting back to my original question, is it too early to plan for a Halloween murder mystery? I say, "No!" and here's how we can help.
We have two plays that would be ideal for a spooky whodunnit, Waxworks of Horror and Bride and Doom. Both are set in a waxworks museum that is reluctantly staffed by a handful of unlikely characters (there's a vampire, a zombie…).
Get in touch to order a reading copy today.
9th February 2018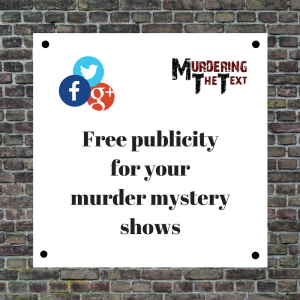 Here at Murdering The Text, our service doesn't come to an end once you've purchased your murder mystery event pack.
We want your production to be an outstanding success just as much as you do, so we'll happily publicise your show for free on our website and social media too.
Supply us with the details of your show, including your box office, and we'll shout about it on Facebook, Twitter, Google+ and post a piece here on our website too.
Free publicity! What more could you ask for?