Category Archives:
Chit Chat
29th September 2017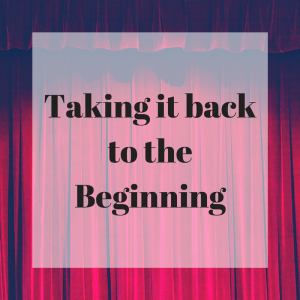 Back in March, I shared the wonderful news that Murdering The Text is 20 years old and that we would be creating a new script to celebrate.
Back in 1997, our first criminal act was The Tangled Web, written for and performed by the group Janet and I were then part of, Dringhouses Dramatic Society.
When I realised that this year was our twentieth, I instantly thought of our friends at Dringhouses and approached them about revisiting that original script.
The resulting play is A Brush, with Death, set in the same place as the original play, the Hotel Tarantella in the market town of Dedleigh, but thirty years later.
I can't tell you the fun I've had revisiting the 1980s (when I was in my twenties – am I giving too much away here?) and a handful of the characters from The Tangled Web who crop in the new play.
A Brush, with Death will be performed by DDS next year, so keep an eye out for more news about that on this blog.
8th July 2017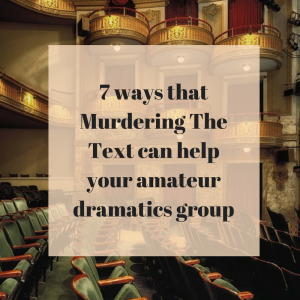 Think our plays are just like all the others? Assume you'll receive the same impersonal service that some of the big play script suppliers provide? Are you under the impression that performing one of our plays will simply bring in some money and have no other benefits? Well, think again.
1. Short but perfectly formed
Our plays are written to take up only part of your murder mystery evening. Depending on the play, they vary from 20 minutes to up to 45 minutes. This allows time for the compere to do their thing, question-time and audience breaks. There's nothing worse than being hurried through an evening of entertainment.
Another benefit of using a shorter script is the time required to learn lines. Rehearsals times (and the related costs of practice space) can be reduced, adding to the eventual profit your event will make.
2. A Snug Fit
Our typical cast is 6 or 7 characters, male and female. The characters are written to fit the available actors of most theatre groups, with a mixture of ages and genders.
Although the characters are created with an age range in mind, most of them can be changed to fit your actors if needed, and we're always happy to help if you need the character histories or scripts to be altered.
3. A Home from (your) Home
With our scripts, you don't have to worry about expensive sets. Black curtains can be used instead of backdrop scenery for all of our plays.
Furniture and props can mostly be drawn from your group's existing supplies, what you have at home, or what's available in your performance space. Even the exits are flexible to fit your stage and venue.
4. We work with you
If none of our plays fit your needs (or perhaps you've performed all of them already), we're happy to work with you to create a new play to suit your venue, resources, cast and event. Have a look at our Custom Written Scripts page for more information.
5. Everyone loves free publicity
Are you one of many amateur dramatics group in your area? Are you fighting for attention in the local press over all those other productions?
Even if your group is the lone am dram talent locally, or you have no problems with publicity, performing something that's a little different to the norm is an excellent way to be featured in the local newspapers.
6. More bums on seats
Provide a new way to connect with your current audience by holding an annual (or even bi annual) murder mystery fundraiser. This interactive show will allow them to see your group in a completely different light.
Want to grow your audience? A murder mystery evening may attract people who wouldn't have considered attending your usual shows. Once you've introduced them to the talents of your group, they may well come along to your plays, musicals and pantomimes throughout the rest of the year too.
7. Maintain your membership
Maintaining membership numbers isn't just about having an available cast. Membership fees are an important factor in keeping the am dram coffers full.
For group members who haven't been cast in the latest production, or whose available time is limited, performing in a murder mystery evening may be just the thing. So, rather than losing uncast members to other groups, give them a part in your fundraiser event. The same goes for backstagers and members who can act as compere or front of house. Keep your members happy and they'll keep coming back for more.