7 ways that amateur dramatics groups can keep their members (happy)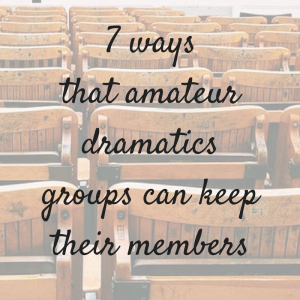 Any theatre group is only as good as its company of members, and this is doubly so for amateur dramatics groups.
So how can you maintain your membership numbers?
1. Stay in touch
Most amateur dramatics groups these days have some form of online presence. It could be a website, a Facebook page, a Twitter account or a combination of all of those.
A notice on your website or Facebook page, an emailed newsletter or even a text is an ideal way to not only keep your members up to date with what's happening with your group, but ensure they feel like a part of your am dram community too.
Physical newsletters can be handed out at group meetings, and what's stopping you arranging social nights out for your members too?
2. Listen to your members
You may well have a committee and a youth representative for your younger members, but there's nothing to stop you actually asking for the opinions of your members as a whole.
What shows would they like to perform? Would they like to take on different roles within the group (from actor to lighting technician, or from backstage to director)? How would they like to see the group develop?
If you want members to stay interested in your group, then give them a say in its future.
3. A role for every member
There's nothing worse than enthusiastically joining an am dram group, then finding that there's no role for you for two thirds of the year.
If a member isn't cast in a production, or isn't available for a portion of time, then ensure that they are involved in the next production.
Involvement doesn't have to be onstage. There's the backstage crew, the production team, marketing and publicity, and so much more. Don't lose members because they feel they're not wanted.
4. Choose plays that fit your cast
Of course, there will always be plays that the group/chairman/committee/director is keen to perform but there is no sense in deciding on a play that you can't cast.
The flip side to that is choosing a play that has a small cast and will leave many of your actors without roles. If you choose a small cast play for one production, then make sure that your productions for the rest of the year will give your other actors a chance at a part.
5. Put them in charge
Encourage your members to organise side events, such as fundraisers.
Acting on behalf of the group, and in agreement with your committee, group members can take the weight off the chairman and co by setting up their own events such as bingo nights, sponsorships through work, and nights out for your members.
Giving them this responsibility will strengthen their commitment to the group and make them feel a real part of your am dram community.
6. Include their friends and family
Don't limit the involvement of members' friends and family just to ticket sales. Ask if they'd like to help backstage, front of house or with creating props.
If you have child and teen members, then their parents will probably already be involved with ferrying them around and sourcing costume items. Show them that you appreciate their help through free entry to one show a year or one of those side events.
7. Congratulate them on a job well done
This is something that is often forgotten. Yes, of course, your members attend your am dram group because they want to be involved in your shows but remember how much they give to the group (including their membership fees) and show them that you appreciate their time and effort.
Tell them how much their involvement means to the group. Congratulate them on yet another, brilliant production. Have an after-show party for them all.
Make it a win-win scenario all round and your members will keep coming back show after show.