10 ways to raise funds for your amateur dramatics group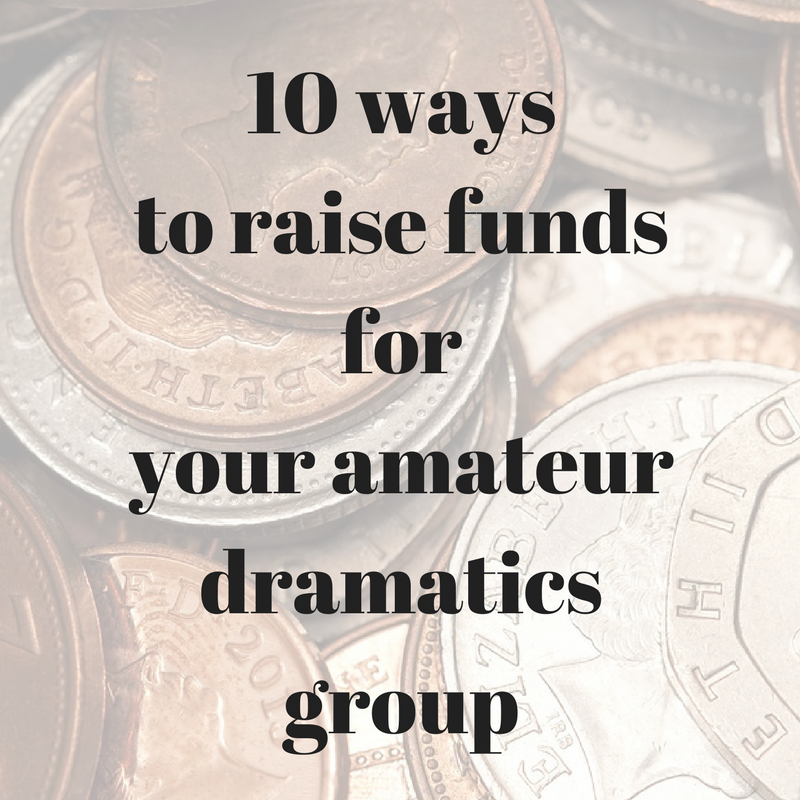 In an ideal world, amateur dramatics groups could exist on ticket sales, raffles, bar takings and membership fees.
In the real world, most am dram groups have to raise extra funds outside their shows and productions.
Murdering The Text was born from just such a need – bolstering the am dram coffers so that our group could continue to entertain our community.
But beyond table top sales and selling off old stock, how do you raise those much needed funds?
1. Hold a murder mystery evening
This was always going to be number one on our list, but holding a regular murder mystery evening can be a great way to raise the money needed to stage your big productions like your yearly pantomime.
For ten reasons why it could provide just the financial boost you need, click on this link.
2. Bingo Night
It used to be that bingo nights were for the 'mature set' but nowadays bingo attracts a vastly wider audience. In fact, it's become quite fashionable and an event that regularly attracts hen parties.
Add to the night's entertainment with songs and sketches by group members, a comedy caller and a well-stocked drinks and refreshments supply, and you could be onto a winner.
3. Carol Singing
You don't have to be religious to enjoy carol singing (or listening). Belting out 'We wish you a Merry Christmas', with a fundraising bucket in hand, is sure to attract passers-by. You can hand out flyers too, for your next production or just to raise the visibility of your group.
Reach out to your local shopping centres for a singing spot.
Contact your council about a busking permit to take your carolling to the streets.
Arrange with a local department store that is accommodating a Father Christmas grotto to entertain the waiting children.
If you're mid-pantomime rehearsals, have your Dame come along in a sparkly costume.
4. Hire out your group for events
Performing at your usual venue is ideal for attracting a local audience but travelling to different venues will open up your group to a whole new audience.
You could hire your group out for murder mystery evenings (see our Groups for Hire page), sing, or perform potted pantomimes or one act plays.
Clients could include:
fundraising organisations such as rotary clubs and PTAs
schools
local businesses
and shopping centres.
5. Sponsorship
Ok, so this is theoretically part of a production, but obtaining sponsorship from local businesses can not only provide you with an item that your group would normally have spent tons of money on (printing, website, timber and paint, bar supplies) but also create a useful link to your community.
In return, your sponsor will be featured in all your publicity material and content, such as your programmes, news articles and website.
6. Renting out your resources
Most am dram groups will have built up an impressive collection of scenery, props, furniture, lighting and costumes, to name but a few.
Many of these will only be put to work in the close run-up to and during a production. For the rest of the time, they sit in your storage doing nothing.
Why not put them to use to earn the group some money?
Approach other am dram groups and event organisers to see if they would be willing to rent an item from you.
Advertise in local press or on am dram related websites such as amdram.co.uk
Do remember to draw up a contract with whomever you rent your item to though.
7. Appear at local events
As with the carol singing above, why not take your group out into the community to perform at local events?
These could be school fayres, village fetes, or local festivals.
Don't forget to take your fundraising bucket and your flyers though.
This is also an excellent opportunity to publicise your group in the local press.
8. Hold a charity auction
Help a charity and your am dram group too by holding an auction.
Approach your sponsors and businesses in your community for items to auction. Any of these who provide an item to auction will be listed in your auction programme.
Add some additional entertainment such as songs or a murder mystery.
Although the auction sale proceeds will go to the charity, the ticket sales and bar sales will go to your group. Plus, this is another opportunity to attract the local press.
9. Offer drama or musical workshops
If you have professionally trained members (musicians, vocal coaches, drama teachers, etc) then why not put their talents to work by holding a workshop?
This could be for adults or children, and held at your usual venue or taken out into a local school or community centre.
Not just great for fundraising, holding a workshop can create links with your local community and attract new members too.
10. Fundraising shopping websites
Have you heard about these? Here's how it works.
You register your am dram group with one of these websites, such as Easy Fundraising or Giving A Bit.
You publicise this service through your website and social media to your audience and members.
They shop with retailers online through this fundraising website.
Their purchase goes through as normal but a percentage of what they spend goes directly to your group. Win win!
Obviously, only some retailers are registered with these sites but they tend to be the bigger stores such as M&S, Morrisons, and Thomson Holidays.
Fundraising doesn't have to raise a groan amongst your group members whenever it crops up at a meeting. Turn it into a fun, social event for everyone and see your am dram group prosper.