How does it work? Using a murder mystery play as a fundraiser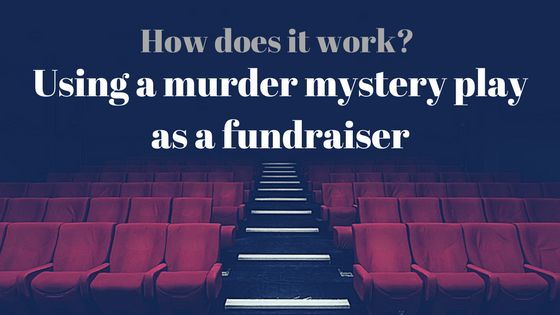 It's been twenty years since we wrote and performed our first murder mystery to raise funds for the amateur dramatics group we were part of back then, and I've seen the use of whodunnit events grow in popularity ever since.
I'd love to say we started a trend but the murder mystery fundraiser phenomenon was already a thing, albeit much less popular and polished than today.
Having customers throughout the UK, in Canada and the USA, and seeing as we're just one of a community of worldwide murder mystery script providers and performers, I'd assumed that everyone understood what a murder mystery fundraiser event was.
A recent comment proved me wrong though, when one lady was puzzled by our website because she didn't know that a murder mystery play could be used as a fundraiser. She assumed that any theatrical production would be too expensive to be used in this way.
This got me thinking. Am I presuming too much of visitors to our website, amateur dramatics groups and fundraisers that they would already know of the existence and effectiveness of murder mystery events?
Perhaps an explanation is needed.
What is a murder mystery fundraising event?
There are generally two ways in which a murder mystery can be used as a fundraising event:
The audience watch a murder mystery play. With the assistance of the compere, the audience questions the suspects and then deduces the identity of the guilty party.
The actors (in character) mingle with the 'audience' at an event such as a party or dinner. A murder is staged and the audience carry out their own investigation to find the murderer.
Our kind of murder mystery falls into the former of these two. We sell murder mystery play scripts, with accompanying information such as character histories, clue material and murderer sheets.
The customer (amateur dramatics groups, PTA organisations, small charities) purchases our murder mystery pack and uses it to hold a murder mystery event to raise money for their group or cause.
How can you make money from a Murdering The Text murder mystery event?
Our murder mystery scripts are written to be low cost productions.
Black curtains can be used as a backdrop rather than the normal scenery. Costumes can be drawn from your cast's personal wardrobes or, in the case of an amateur dramatics group, created from your existing stock. Even the furniture and props are items that can be easily sourced at little or no expense.
For information on how to source costumes for period productions, read our post Dressing It Up.
Most of your income will be earned from ticket sales (the price will reflect whether the ticket covers the performance only or includes a buffet, bar or three course dinner) but you can also run a bar and hold a raffle for extra income.
Prizes for your raffle and aspects of your production such as publicity, bar license or printing, could be gained through sponsorship by local businesses.
For more information read our page, Ten reasons to hold a murder mystery event.