We act for money (or how to hire out your amateur dramatics group for murder mystery evenings)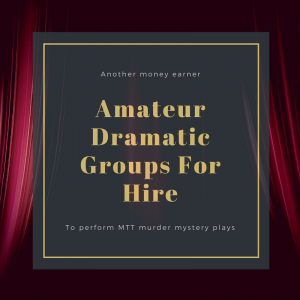 Once you've tried your hand at a couple (or more) of our scripts, the word tends to spread.
You'll find your audience looking forward to your next murder mystery night, even asking you when it will be.
You're not merely a group that performs hilarious pantomimes and entertaining plays. You now have another arrow in your theatrical quiver – your whodunnit events.
You could leave it at that, simply sharing your brilliant new fundraising scheme with your loyal audience.
Or, you could take it out into the wider world by hiring yourself out to perform murder mystery evenings for fundraising organisations such as parent and teacher associations or local charities.
The result will be not only extra funds but also a wonderful way to publicise your group.
It can even become a regular arrangement. One of our Yorkshire clients holds an annual murder mystery event for a local PTA, and have done for years.
If this sounds like the perfect opportunity for you, then we can help.
We hold a list of amateur dramatics group who hire themselves out to perform Murdering The Text plays. What's more, this is an entirely free service, a gift from us to you.
We regularly publicise this list on Facebook and Twitter.
Visit the Amateur Dramatics Groups For Hire page on our website to find out which groups are using this service already.
If you'd like to join our list, drop me an email with the following details:
Group name
The geographical area you cover
Contact details
Group website