7 ways to attract new members to your amateur dramatics group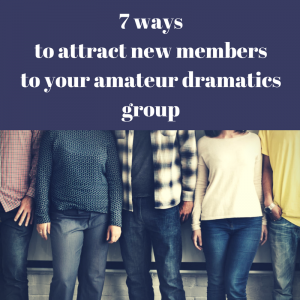 Most amateur dramatics groups will have a loyal membership but numbers can fluctuate for many reasons.
Teenage members leave the area to attend university. Elderly members retire from treading the boards. People move away from the area. Work commitments come first.
Even if your membership numbers remain stable, your am dram group may still need new members so that you can perform that play/musical you've been dying to try out.
So, how exactly do you attract fresh talent to your group?
1. Advertise on amateur dramatics related websites
There are plenty of them out there if you look, and many of them feature adverts and listings. The benefit of advertising for new members on these websites is that you know you're talking to an interested audience.
Here are just a few:
2. Social Media
Even if your group doesn't have a website, you're sure to be using Facebook and possibly Twitter too.
Add an article to your blog page, or a new banner to your home page. You can then direct traffic from your Facebook page and Twitter feed to your website.
In fact, post separate adverts on any social media feed you use as well as your website.
Don't be shy in extolling the theatrical virtues of your amateur dramatics groups to attract new members. Tell them exactly how wonderful being a member of your group is.
And remember to share your social media links, and continue to share them just in case prospective new members didn't see them the first time around.
Ask your current members to share the new members advert on their social media feeds too.
3. Posters in local shops and on notice boards
Your group may well have links with the shops and organisations in your community, so pull in a few favours.
Will the local newsagent put a poster up in their window? What about the nearest supermarket (or supermarkets – the more the merrier)? Is there a local coffee shop or pub who will display the poster indoors where drinkers can see it as they sup?
Don't forget any local noticeboards too. Contact the people who control what appears there and ask if they'd include a poster.
4. Local press and radio
Getting the local press and media onboard can be a scary prospect for am dram groups.
Perhaps you think it's only acceptable to approach them when there's a show involved or that your need for new members isn't real news. Not so. The press and media are always after a story so give them one.
It might be that you need new members for a particular show. Chatting on the local radio station will not only allow you to appeal for new members but get a mention in for your play or musical too.
Frame your need for new members in a way that makes it newsworthy.
If you've dealt with a particular press journalist or photographer before, then contact them.
Make it a win win for everyone involved. You get the coverage. They get a story.
5. Advertise in show programmes
You control what is included in your show programmes so take advantage of this free advertising opportunity.
You have a willing and receptive audience for your advert because these are people who have paid to watch your group perform. They want to be there.
What's more, once the show is over they have a physical reminder of your advert in the form of the show programme (which hopefully they'll take home with them).
They also know your group from the show they've seen so the prospect of joining won't be as scary as coming to the group completely cold.
Equally, knowing your group, they're more likely to tell other people about your search for new members.
6. Ask current members to spread the word
Most of your members will know of someone who has expressed an interest in getting involved in amateur theatre, or who has skills that would be useful for the group.
Ask your members to ask around their circle of friends and contacts. It could be a school friend, an aunt, the local vicar or a husband.
Better still, ask your members to bring someone along to a group meeting so they can see for themselves, but with the support of a familiar face, how brilliant your group is.
7. Approach local drama classes and courses
These will usually be run by further or higher education institutes such as colleges and universities, but you might also come across night classes run at community centres or schools too.
Don't assume that just because people are paying to study drama, they won't be interested in being part of an amateur theatre group. Acting experience is just that – experience.
Approach the organiser of the course or class and ask if you could leave a poster with them, or better still go into one of the classes and chat to the students about your group.
However you decide to search for new members, don't forget to keep it warm, welcoming and inclusive.
Good luck.