How to dress your cast cheaply for a production set in the past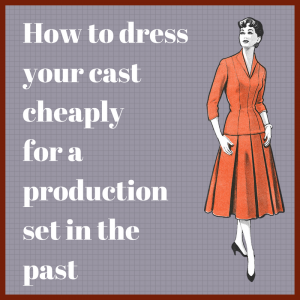 Vintage? Retro? Whatever you call it, dressing your actors for a play that is set in the past can be a nightmare.
One option is to hire costumes from your local theatre, theatrical costume supplier, or fancy dress shop, but that can be expensive.
When you're trying to keep costs down to make the maximum profit, the last thing you want to do is spend a fortune on costumes.
Several of our plays are set in past decades.
1920s – Thoroughly Murdered Millie
1940s – The Butcher, the Baker, the Candlestickmaker
1950s – The Tangled Web and Crowning Glory
1960s – The Crossed Swords
1980s – A Brush, With Death
When it comes to costumes, an era can be hinted at by the use of certain shapes and details.
A 1920s look could feature low waisted dresses and cloche hats.
World War Two British fashion was affected by rationing and all about the concept of utility. Women's fashion featured square shoulders and shorter skirts, with very little detail.
The 1950s was similar but with more detail and using better quality materials. The end of rationing meant more fabric too. Classic shapes were the full skirt or the pencil slim tubular skirt.
For the 1960s, it could be mini skirts, Mary Quant bobs or geometric prints.
Fashions come around again and again. If we aren't revisiting the 1970s, then Victoriana is making an appearance, so ask your actors to search through their wardrobes for clothes that are either sufficiently classic to not lend themselves to a specific era, or just the right shape for, say, a 1920s flapper girl or a second world war bank manager. Obviously vintage items would be ideal but we're not all that lucky.
Alternatively, if your group has an existing wardrobe of costumes from past productions, there may be items there that you can use or adapt. Most am dram groups have a whole host of pantomime costumes, for instance, which usually include the basic white blouse and coloured A-line skirts worn by chorus members. Is there anything that could be altered to suit your production?
Finally, if you really have to spend some money, then charity shops can be a haven for vintage and vintage-look clothing, or even just items that can be altered.
It doesn't have to cost a fortune to dress your cast for a production set in a past era.
Don't be held back by having the exact look when a gesture to the period you're playing will serve just as well.
Useful Links
Costume Gallery Research Library