Setting the scene for half the cost (or less)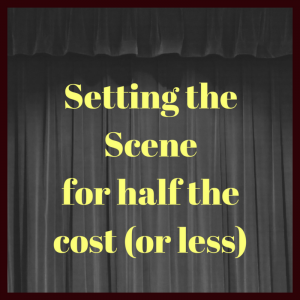 An integral part of any theatre performance – and an often forgotten member of the cast – is your stage design.
It adds depth to the magic of any show, whether set back behind a proscenium arch, thrusting out into your audience or in an outdoor setting.
Amateur dramatics groups have the added challenge of balancing cost with effect, creating a fitting backdrop for their performances without emptying the coffers.
Flats (stand alone pieces of set) are demolished, reshaped and repainted. Scenery panels are similarly refurbished, and props are put to further use.
Our plays are written to be low cost events that help you raise sufficient funds to stage the plays you 'want' to perform, so don't fall into the trap of wasting your profits on unnecessary set design.
From personal experience of staging our plays, we've found lots of ways to save money when setting the scene.
Scenery
I've worked with some incredibly talented set designers and construction teams over the years but give them a break when it comes to your murder mystery evening.
There's no need to go to the effort and expense of creating a backdrop for your play when black curtains will do the job with the possible addition of a 'Backstage' or 'Platform 1' sign.
Exits and entrances don't need a specially created door frame, unless you have one to hand.
Lighting
Keep it simple.
Our plays require very few changes in lighting. Lights are mainly on or off.
The only changes to this are our split stage plays where the focus is on one half of the stage at a time.
Keep coloured lights, strobes and diffusing lens' for your main productions.
Furniture and Props
Every piece of furniture or prop in our plays can be sourced at little or no expense.
Dive into your group's existing stock. Small flats can be re-created and you may already have the furniture you need.
Group members and their families may be able to supply small furniture items such as a coffee table.
Ask your cast to use their own clothes, mobile phones or sports bags.
If your show will be performed in a church or community hall, utilise the chairs and tables that are already there.
At a push, visit a charity shop or the local Freecycle website for anything you can't lay your hands on.