Turning the spotlight on 2017
December 18, 2017
Am Dram Advice, Amateur Dramatics Groups for Hire, Chit Chat, Custom Written Scripts, Fundraising Advice, Holidays, MTT Plays, New Plays, News, Newsletter, Testimonials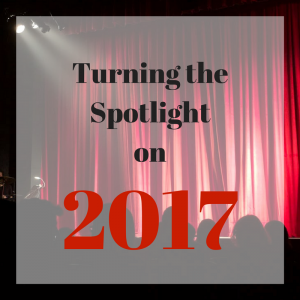 The end of 2017 is almost upon us and what a year it's been, with our twenty year anniversary and our newly penned play, A Brush, with Death, written to celebrate.
Amidst a whole host of changes to our website, we re-introduced Murdering The Text with We Must Be Doing Something Right, followed by 7 ways that Murdering The Text can help your amateur dramatics group.
We launched our new monthly am dram advice articles with 7 ways that amateur dramatics groups can keep their members (happy).
We told you about our custom written murder mystery play service in No murder mystery play to suit? No problem. We'll write one for you, and later that month posted 10 ways to raise funds for your amateur dramatics group.
We explained our services in How does it work? Using a murder mystery play as a fundraiser and We act for money (or how to hire out your amateur dramatics group for murder mystery evenings).
Later that month, we posted another of our am dram advice articles, 7 ways to attract new members to your amateur dramatics group.
In October, we announced our special offer for new subscribers to our mailing list, and told you about our FAQs (frequently asked questions) page.
We finished the month off with How to dress your cast cheaply for a production set in the past.
November was a busy month as Murdering The Text moved house, we welcomed a new member to our Amateur Dramatics Groups For Hire family, and in Spreading the Magic we explained how to extend your productions beyond the edge of the stage.
December posts included Testimonials – hear what our customers have to say and Setting the scene for half the cost (or less).
We've one more post for you before we sign off for Christmas. In the meantime, I think we've earned a mince pie, or two.