How to choose your next production – Part 1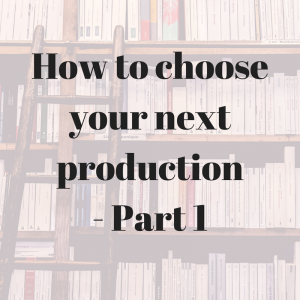 Whether it's a play you're after, a musical or a revue, choosing what to perform next can leave the most experienced of amateur dramatics groups in a bit of a quandary. It doesn't have to be that way though.
With a handful of forward planning, a pinch of foresight, and a large dollop of enthusiasm, you can easily cook up the perfect recipe for a profitable production.
1. Let's get down to the nitty gritty – what can you afford?
I know. You don't want to think about something as mundane as money because this is a hobby, an interest, and a passion.
Unfortunately, for any amateur dramatics group to have a future, it has to balance the books just as well as any business.
So, let's break this down:
Script fees and royalties – having staged productions before this, you'll already have an idea what these may cost. What can you afford to spend? What will you be able to recoup by charging involved members for scripts?
Tickets – taking into account ticket prices, the audience size in your venue and how many performances you want to hold, what are you likely to make on ticket sales?
Other income – this could be drinks and refreshments on the night, raffle takings, or sponsorships. Don't forget to bear in mind how much any of these may cost to set up.
Resources – how much could you afford to spend on costume hire and new materials?
Other outgoings – rehearsal space hire, printing costs, etc.
Fundraising – if you find that what you can afford is too limiting, then is it possible to raise extra funds?
A lot of these costings will of course be estimated and based on past productions, but having an idea of these figures before you go in search of a script can save you from purchasing one that leaves you out of pocket.
2. Stage, Furniture, Props & Costumes
Many productions, in fact most to be fair, can be adapted to different stages. This isn't always the case though. For instance, fitting a musical cast of twenty-four onto a small six by six foot stage is never going to work.
When considering a script, always work out whether your stage will accommodate it.
Amateur dramatics groups vary greatly on the stocks they keep of furniture and props. Some may have on-site storage, while others rent space. Some groups beg space in the attics and garages of their members. Then again, there are groups who operate with very little furniture and props, hiring what they need or borrowing from members' homes.
What furniture and props does a script require? Do you have these already? Could you borrow them? Would you have to spend money on hiring or purchasing them? If you're adding to your stock, do you have the storage space for it in the run up to the show and afterwards. Is it something you are likely to use again? Could old props be adapted?
The same goes for costumes. Many groups will hold a stock of costumes that can be re-used or adapted. Other groups will hire their costumes. A present day script may simply require cast members to use their own clothes.
What does your chosen script need? Is it a period piece? Does it require military uniforms or specialist items such as a gorilla suit? How much will it cost to dress your cast?
3. Cast
This might seem a little obvious but never assume that groups members will be available for your next production.
Even the most enthusiastic actor or stage manager can have work obligations. Then, there are holidays and, on occasion, weddings.
Always ask your members before arranging a production to make sure you have an actual cast and off-stage support. There's no sense in purchasing a script if you can't cast it.
4. Author
It may seem the obvious thing to trawl the catalogues of Sam French or one of the other major suppliers of scripts to find your next play, but there are other options too.
A quick search of the internet will throw up an immense number of reputable playwrights who may prove less expensive and would be willing to discuss their scripts with you, the possibility of adaptations, for instance, or alternative castings.
Do you have any local playwrights you could use? This could provide an excellent way to build a story for the local press. In addition to inviting them to your show, you could even have them advise throughout your rehearsal period.
Finally, do you have a budding playwright in your group already? More and more amateur theatre groups are creating their own scripts. The benefit of recruiting one of your members to write a play for you is that they can create it around your group, your resources and your venue. You could even create sections of the play in a series of workshops, involving your actors in creating their characters.
Watch out for Part 2 of this article next week.