7 ways amateur dramatics groups can use social media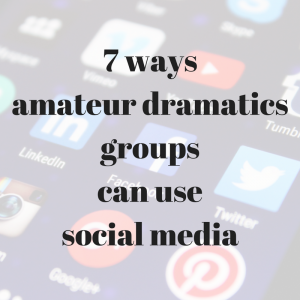 Your group probably already has a Facebook page, maybe a Facebook group, a Twitter account and possibly posts on Instagram too, but unless you have a plan for your social media offerings, they can simply go unnoticed.
Knowing what job you want each post to do will affect the wording and images you include, and possibly the social media platform you use too.
1. Promote your shows
This is the most obvious way that your group will use social media. So how exactly do you advertise your next show?
You want to build up anticipation for your show so start promoting your show with social media posts a couple of months beforehand.
Visuals always work well on social media so posting a copy of your poster is an ideal way to catch your audience's eye, plus if you have your show details (dates, venue, box office) on your poster, you'll be advertising those too without the reader having to put in the effort of searching out all the details.
On your group Facebook page, create an event page for your show and make sure you include your box office details so your audience knows where to buy tickets.
Post teasers, like rehearsal shots and videos, photos of costumes (not necessarily a full costume, maybe just a wig or a pair of distinctive shoes with the words "who wears shoes like this?" for instance), images of your set build and anything else that hints at what your audience will see in your show.
Change the banners on all your social media sites to promote your show, ideally with dates, venue and box office details.
Create a hashtag for your show, #cinderella or #aninspectorcalls, and use it whenever you promote your show on social media.
2. Stay in touch with your members
One of the best ways to stay in touch with your members and maintain a level of privacy is to create a group on Facebook.
If privacy isn't an issue, then encourage your members to follow your social media accounts for news and announcements. Find out which social media sites they prefer – Facebook, Twitter, etc – to make sure that you're reaching them all.
3. Stay in touch with your audience
If you have an audience mailing list, then you can send out regular newsletters to announce your news and shows but for audience members who haven't subscribed to your mailing list, the best way to grab their attention is on social media.
Tell them about your shows and any fundraising events you're holding. Share group news, such as awards. Run competitions for them to win free show tickets. Ask them questions to encourage engagement (always a good thing in the eyes of social media algorithms). Most important of all, encourage them to share your posts.
4. Find new members
Need a new pantomime dame or backstage crew member? Put it out on social media. Better still, link it to your show with your hashtag.
5. Get more bums on seats
If you want to grow your audience, you can either move your social media offerings to a different social network where you think those prospective audience members might be, or target the specific audience you want to reach through social media tools and hashtags. You could also ask your current audience to spread the word.
6. Connect with sponsors and suppliers
Have you been offered sponsorship, prizes or some other form of supplies for your upcoming show? Let your social media audience know by thanking the kind individual or company on your social media accounts. If it's a company, don't forget to link to their website or social media account as part of your post. You could even ask them to share the post, publicity for you both, win-win.
7. Bring traffic to your website
Finally, don't forget to mention your website on your social media accounts and in your posts. Social media is wonderful but you always have to play by their rules. You control what appears on your website, your own little slice of the internet, so your social media presence should always point back to your website.
When we speak about social media, the networks that come to mind first are Facebook, Twitter and Instagram, but there are other useful networks too.
YouTube is incredibly popular (hence why Facebook is so keen to promote their Facebook Live) and can easily be linked to or embedded in your website and social media.
There's also Pinterest, Google+ and Tumblr.
Tailor your posts for each social network, for instance, image sizes and the amount of words you have to play with.
Create eyecatching images that are easy to share and marked with your group's name and website or social media.
Research where the audience for your posts are and use that social network.
Keep up to date with the rules of each social network you use, the changes to the Facebook algorithm, for instance, that have limited organic growth for pages, and the subsequent changes that will take effect on Instagram.
The wonderful thing about using social media to promote your shows and stay in touch with your audience is that it doesn't cost anything (unless you decide to use paid for adverts) and who doesn't like free publicity?