How to keep down the costs of your murder mystery event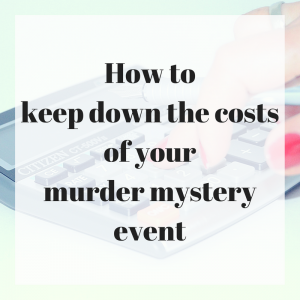 As the born entertainers and seasoned performers that you are, the show is of course the thing. When you present your murder mystery event, you want to put on the best production possible for your audience, leaving them hungry for more. That's the priority.
Or is it?
Isn't the whole idea of holding a murder mystery fundraiser to, well, raise funds?
I'm not saying that profit should be your sole priority but it's certainly up there with wanting to entertain your audience.
So how exactly do you keep down the costs on your theatrical whodunnit?
Rehearsal Costs
Don't go to the expense of hiring space to rehearse in, at least not at the beginning.
Meeting up at someone's house to rehearse is perfectly acceptable. Initially, you'll be reading through lines and running practice question times so sitting in the lounge of your director or one of the cast will suit fine.
Even when you get to the stage of walk-throughs and mapping out the set, this can be done in someone's home if they have a large enough space. If the weather is nice, move the rehearsal out to the garden or a local park.
If you're running rehearsals for another production at the same time as your murder mystery, you could always beg a corner of that space to run through your rehearsals in.
Costumes
The first stop for sourcing costumes for your murder mystery is with your cast. Do they have clothes of their own that would suit? Unless the play is set in the past (and sometimes even if it is), your cast can probably provide their own costume, or even lend clothes to each other.
What about the group's existing wardrobe? Is there anything there you could use or adapt?
Finally, hit the charity shops for items that might suit as they are or that can be altered.
The Set
I wrote about this back in December in Setting the Scene for half the cost (or less).
Have a look.
Publicity
You probably already utilise a lot of free and low-cost publicity for your shows but here are a few ways we've used in the past to limit publicity costs.
Website and social media – wherever you have an online presence, publicise your show, including posting teasers in the run up to the murder mystery event.
Local press and radio – utilise your usual media contacts from the local paper and radio station.
Mailing list – if your group has an email mailing list, then send out emails to all your contacts. If your group sends out flyers and letters in the post to your mailing list, then do that, but remember to limit the cost of producing any flyer or letter. Use second class postage unless you can do deliver by hand.
Local shops, pubs and offices – ask them to pin a flyer on their notice board.
Show programmes – mention the upcoming murder mystery in the programmes of the previous show.
Printing
The first big tip is to keep everything you print – tickets, programmes, flyers – simple black print. There's no need for colour images or lettering. Keep it simple.
Do you need the normal format programme (a folded piece of A5 or A4)? Could you simplify with a single sided piece of A5 or A6?
Does one of your group members have a printer that you could use? Provide the paper (which could just be plain white paper if your black design is striking enough) and give them some money towards the printer ink.
Don't print out more than you need, of anything. For instance, one clue sheet or deduction sheet per audience team should suffice. If possible and the cost of ink isn't too expensive, have a printer with you on the night to print anything extra you need, or better still would be to have access to a photocopier on site.
If you can get away without a printed out poster, and just rely on online posters and printed out flyers, then go with that plan. Printed flyers are cheaper by far.
Balance the cost of printing against photocopying.
Does anything really need to be on A4? Generally, A5 or smaller will be fine.
Prizes
Don't go mad on winner prizes. Keep it simple – chocolates or wine, for instance – and keep the cost down by using your local cash and carry, taking advantage of offers in your local supermarkets or buying from pound stores where everything costs £1 or less.
Ask your involved group members to provide something for a raffle. Remember, several small items can be bundled up into a larger prize.
Finally, offer advertising in your programme and publicity (any related news articles, for instance) to local businesses in return for prizes.
Refreshments
You may choose to offer a bar, or a cold buffet, or even a three-course meal, but that doesn't mean you have to spend a fortune.
Having a bar, or even a non-alcoholic coffee and tea offering, can bring in a tidy profit. People like an excuse to stretch their legs, and this is a night out after all so your audience will want to treat themselves to a drink of some kind.
Your local cash and carry is always a good place to buy the basics in bulk and thereby at a cheaper price.
Ask your members to provide at least part of your food and drink offerings.
Use any stock you have left over from past shows such as paper plates and bottles of water.
Again, offer advertising in your programme and publicity to local businesses in return for food and drink.
Finally, don't go overboard on the amount of food you offer as part of your buffet. Cost it all against the price of a ticket. You don't want to spend £20 on food per head and only charge £10 per head for a ticket.
*
Here's to an enjoyable, popular and profitable fundraiser. Good luck.