5 ways Murdering The Text can alter a script to suit your production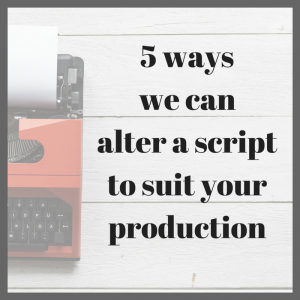 At Murdering The Text, we aim to do all we can to help you with your murder mystery fundraisers so over the years, we've made customer-requested alterations to many of our scripts.
If you want to buy one of our murder mystery scripts but they're not quite the right fit for your cast or event, here are just five of the ways we can alter them to suit:
1. Cut down the number of characters
When we originally wrote The Blunt End for a high school in the south of England, they asked us to write for a much larger cast than usual so that all of their interested pupils could take part. The resulting cast added up to 15 named characters and additional performers too.
A couple of years later we were approached by a group who loved the idea of the play but had a more modest cast. We took a fresh look at the script and reduced the cast down to a suitable 8 characters. We now offer this reduced cast version of The Blunt End in our catalogue of plays.
2. Change the gender of characters
The Waxworks of Horror was originally written with a cast of 2 female and 3 male actors (with an additional screaming individual sprinting across the stage). When a long time customer came to us with the problem of no available male actors, we altered the play to have an all-female cast. This version is now available for purchase on request.
3. Fit your stage
Having problems fitting one of our plays to your stage? Perhaps you have limited stage space or entrances. Forward us your stage layout with possible exits and access points, and we'll alter the script to suit your venue. It might even be that you can't fit or transport certain furniture items onto your stage. We'll think up a new list of furniture to suit.
4. Alter the dialogue
Whether you feel a piece of dialogue is too naughty or otherwise unsuitable for your audience, or you want to add in a couple of your own jokes or a local mention, we're happy to help. Perhaps one of your actors wants a smaller part, or you'd like to add in a new character. Whatever the reason, we'll readily rewrite sections of our play to suit your cast and production.
5. Scripted reveal
We like to think that the ad-libbed quality of the question time, when the audience interrogates the suspects, adds an excellent opportunity for your cast to show their knowledge of their character and make the production unique to your group but if you'd prefer to have a scripted reveal, perhaps delivered by a detective-type figure, then we're happy to supply this as part of your event pack.
Get in touch
If you want to make alterations to any of our scripts, then please feel free to drop us an email. Any alteration is free of charge and made in discussion with you.