Preparing for Christmas yet? Try our festive murder mystery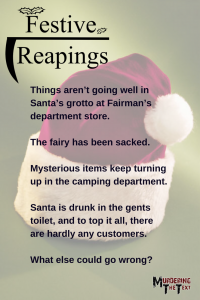 I know. You're sweltering in the summer heat and Christmas is the last thing on your mind. However, just in case you're thinking of holding a fundraiser in the Christmas season, why not have a look at our santa-clad murder mystery, Festive Reapings?
Set in a failing Santa's Grotto, this script features a drunken Father Christmas, a fairy on her way out and a whole host of grotto-mysteries just waiting to be solved.
Show Cast
Joseph Ewell, store manager
Noel Avery, elderly Santa and semi-retired actor
Mike Hope, elf and replacement Santa
Eve North, Mrs Christmas
Carol Dove, elderly fairy
Natalie Snow, elf
Gabby Bell, elf
Mary Dove, Carol's niece and head of the fancy dress department
Visit the Festive Reapings play page to find out more.
And just in case, you wanted to try your hand at a non murder mystery, why not have a look at Pantoland's Got Talent?
Peopled by a cast of pantomime characters, this talent show gone wrong could tie in wonderfully with your am dram group's pantomime preparations.
Show Cast
Dandini, presenter of Pantoland's Got Talent
Abanazer, judge
Queen Grimhilde, judge
Widow Twanky, contestant
Wishee Washee, her son and contestant
Jack and Jill, contestants
Snow White, contestant
Stage Assistant
It's never too soon to look ahead to Christmas. 170 days and counting.