How to make the best of the am dram summer break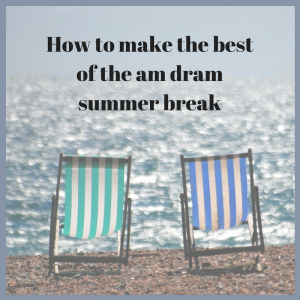 Whether it's to go away on holiday or just have a well needed break, most amateur dramatics groups close up shop for at least part of the summer.
The downside to doing that is that your audience may forget about you, when what you really want is their rapt anticipation of your autumn or winter production. Morevoer, some group members can drift away and never be seen again.
So, if you need some suggestions to stay in your audience and members' minds over the summer break, have a look at these tips.
Group Trip
Why not arrange a trip for your members? It could be to a local theatre show, a sing-a-long cinema showing or just an outing to the seaside. Meeting with fellow members doesn't have to just be about AGMs and rehearsals. Add some fun into the mix and have a summer get-together.
Summer Workshops
If you have a number of professionally trained members (musicians, vocal coaches, drama teachers, scriptwriters, etc) then why not put their talents to good use by holding a summer workshop? It could be for adults or children, and held at your usual venue or taken out into a local school or community centre.
A summer workshop can be great for fundraising and create links with your local community too.
And if you really don't want to hold a public workshop, then why not run one just for your group members?
Social media and blog
Don't let your online presence die over the summer. Keep posting to your social media accounts and writing blog posts on your website.
Don't leave these down to one person either. Get other members involved.
To get around the necessity to visit your social media accounts on a daily basis, schedule posts ahead of time.