Testimonials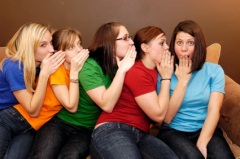 Want to know what our customers have been saying about us?
Then read on.   
It was a roaring success – everybody loved it. The cast had a ball and so did the guests. We had some side stalls (jams/pickles/chutney/cakes/guess the weight of the Union Jack cake) and these together with a summer hamper raffle raised almost £700 for the charity we were benefitting. I think this is a measure of how much people enjoyed themselves. So many people have told me that Crowning Glory was one of the highlights of what was a very memorable weekend in Purley on Thames. Thank you very much for writing such a great mystery play for us.
Jean Chudleigh. The Purley Players 
The Heath Players is a small am-dram group founded in 1948 and based in East Malling, Kent. We came across MTT a few years ago and have performed 'Waxworks of Horror', 'Bad Fortune', 'A Show to Die For' and 'Hens'. Our next venture will be 'Bride & Doom' on 24 & 25/4/09. Each show has been a pleasure to put on and our audiences seem to have thoroughly enjoyed them – they certainly keep on coming back for more. Like many groups, we have very few men prepared to get up on stage, so 'Hens' was written for us with an all female cast. That kind of personal service is greatly appreciated and it is good to know that we are dealing with friends, not some remote, impersonal organisation. Keep the murders flowing (especially the feminine ones) and we will be more than delighted. Incidentally, have you ever read about the East Malling gang? They were smugglers (some considerable time ago, of course) and a murderous bunch, by all accounts. I wonder if that is why we all enjoy MTT productions so much…….?!
Peter Coombs, The Heath Players
We had our murder month in the library for the whole of November and culminated with the murder mystery on the 25th. It was a huge success! The audience had a great time and got totally involved. We had sold all 50 tickets but on the evening extra people turned up at the door and we didn't have the heart to send them away. We have had a huge amount of positive feedback.
Mary Rossall, The Grange Library
 We performed 'Waxworks of Horror' for the first time on Friday night and it was very well received by our victims! We hosted a murder mystery dinner for about 65 people and raised £340.00 for our local church. The audience thought it was wonderful and an extremely enjoyable night was had by all.
Marion Murdoch, Winchburgh Drama Group
The show went really well I'm pleased to say, we had a great audience both nights and an even split of people who got it right and wrong, which is always satisfying. Thank you for allowing us to perform this and for all the help and support you provided.
Lisa Taylor, Stamford Bridge Players
Dringhouses Dramatic Society have been involved with the murder mysteries since the idea was first mooted by Fiona and Janet, two stalwart members of the drama group, about writing and performing a murder mystery as a source of fund raising. We found that it was a good way to get our families, friends and loyal supporters to come along and have a fun evening whilst at the same time raising some much needed capital, particularly if we had overspent on the last production or we required a bigger budget for our next one. Doing a murder mystery also allows you to use those members who are not in the current production. Since the initial play we have been performing them on a regular basis. Recently we were asked to perform a murder mystery for a group who were raising funds for the NSPCC away from York in West Yorkshire. The organiser did not know anything about the murder mysteries; she had only heard that we did them. We had never performed them away from our home base in Dringhouses. This could have been a daunting experience. However, the whole evening turned out to be a very lively and enjoyable time for both the fund raisers and ourselves. Dringhouses Dramatic Society has now been asked to return to darkest West Yorkshire to perform another murder mystery for another group of fund raisers. Dringhouses Dramatic Society would recommend these well written murder mysteries with their suspenseful and ingenious plots to any group who needs to boost their funds, particularly as it is a painless and enjoyable way of doing it.
Duncan Savage, Chairman Dringhouses Dramatics Society