10th July 2018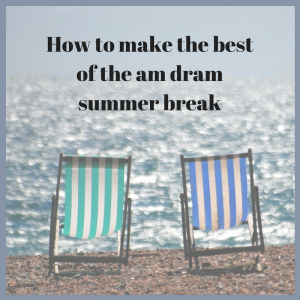 Whether it's to go away on holiday or just have a well needed break, most amateur dramatics groups close up shop for at least part of the summer.
The downside to doing that is that your audience may forget about you, when what you really want is their rapt anticipation of your autumn or winter production. Morevoer, some group members can drift away and never be seen again.
So, if you need some suggestions to stay in your audience and members' minds over the summer break, have a look at these tips.
Group Trip
Why not arrange a trip for your members? It could be to a local theatre show, a sing-a-long cinema showing or just an outing to the seaside. Meeting with fellow members doesn't have to just be about AGMs and rehearsals. Add some fun into the mix and have a summer get-together.
Summer Workshops
If you have a number of professionally trained members (musicians, vocal coaches, drama teachers, scriptwriters, etc) then why not put their talents to good use by holding a summer workshop? It could be for adults or children, and held at your usual venue or taken out into a local school or community centre.
A summer workshop can be great for fundraising and create links with your local community too.
And if you really don't want to hold a public workshop, then why not run one just for your group members?
Social media and blog
Don't let your online presence die over the summer. Keep posting to your social media accounts and writing blog posts on your website.
Don't leave these down to one person either. Get other members involved.
To get around the necessity to visit your social media accounts on a daily basis, schedule posts ahead of time.
8th July 2018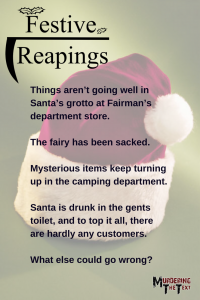 I know. You're sweltering in the summer heat and Christmas is the last thing on your mind. However, just in case you're thinking of holding a fundraiser in the Christmas season, why not have a look at our santa-clad murder mystery, Festive Reapings?
Set in a failing Santa's Grotto, this script features a drunken Father Christmas, a fairy on her way out and a whole host of grotto-mysteries just waiting to be solved.
Show Cast
Joseph Ewell, store manager
Noel Avery, elderly Santa and semi-retired actor
Mike Hope, elf and replacement Santa
Eve North, Mrs Christmas
Carol Dove, elderly fairy
Natalie Snow, elf
Gabby Bell, elf
Mary Dove, Carol's niece and head of the fancy dress department
Visit the Festive Reapings play page to find out more.
And just in case, you wanted to try your hand at a non murder mystery, why not have a look at Pantoland's Got Talent?
Peopled by a cast of pantomime characters, this talent show gone wrong could tie in wonderfully with your am dram group's pantomime preparations.
Show Cast
Dandini, presenter of Pantoland's Got Talent
Abanazer, judge
Queen Grimhilde, judge
Widow Twanky, contestant
Wishee Washee, her son and contestant
Jack and Jill, contestants
Snow White, contestant
Stage Assistant
It's never too soon to look ahead to Christmas. 170 days and counting.
29th June 2018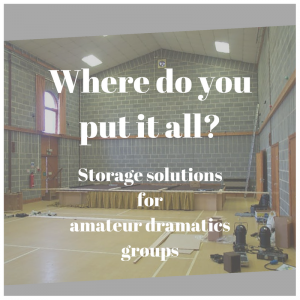 Whether an am dram group has been around for decades or is relatively young, there's one common problem that they all encounter – how and where to store all those costumes, props and set pieces.
It could be an immense wardrobe of costumes that you can't bear to part with, or a selection of props that are sure to come in handy again. Set pieces are expensive to source and make from scratch so of course you want to hang onto those.
Whatever the reason for your storage problem, I have a few tips that might just help.
Location, location, location
Don't worry. There's no Kirsty or Phil in sight. I'm talking about the location of your storage space. Where do you put it all?
Keep it at your performance venue

The group that introduced me to the world of am dram performed their plays in a village hall. Costumes and props were stored in a large room to the side of the hall which doubled up as our dressing room. Set items, such as flats, doors and a rolling backdrop were kept permanently on the stage.
Is it possible to store your am dram wares at the venue where you perform? It doesn't have to be a room. It could be in the attic or cellar, or in a shed outside the venue. Have a chat with the venue proprietor and see if you can arrange something.
Hire a self-storage unit

Obviously, this will involve expense and transport to convey items from the storage unit to the performance venue but hiring a self-storage unit ensures that your items are kept safe and dry.
Build your own space

Why not construct your own storage space? You'll most likely need planning permission before you begin and obviously the go-ahead from the landowner, but having your own dedicated storage space means that you can arrange it to suit you. Downsides? Expense, time and upkeep.
Share your storage space with another am dram group

Sharing the cost of storage with another group is the ideal option where you share a venue or your venues/performance spaces are close to each other.
Upsides? Shared cost and the possibility of sharing your costumes etc too.
Downsides? It can be difficult to keep track of what belongs to who.
Member good-will

If there really is no other option, then storing items at the homes of your members is a way to gain free storage space.
Whether it's the director's garage, the leading lady's shed or the wardrobe mistress' attic, the only real problem with choosing this option is that it can be difficult to keep track of where everything is.
Too much stuff? Have a clear out
Sometimes the make-do and mend mindset can mean that groups hang onto things far past their shelf-life.
You may have used that flat for 42 successful panto runs but have you not noticed that it's only being held together by the 42 layers of paint that it's received?
Equally, costumes that have been altered and re-engineered many times may have lost their shine and become threadbare.
Have a keep – sell – bin clear-out:
Keep the items that you will definitely use again.
Sell the items that are in good condition but you're unlikely to use in the next 2 years.
Bin anything that is broken or shoddy.
How to make the best out of limited storage space
Invest in the right kind of storage for your group. If you have mainly costumes, find storage to suit that. If most of your space is taken up with props, then that should be your focus.
If you have a lot of costumes, do they all need to be hung up? Although portable hanging rails are great for transporting costumes during rehearsals or a show, they can be bulky in a storage space. Could you buy a wardrobe, freestanding or fitted, with shelves above the hanging rail and drawers beneath? Could items of clothing be folded and stored in a drawer?
Where you have a lot of smaller props, use boxes or crates that can be labelled and stacked.
Having said that, keep as much as you can off the floor. Wall shelves can help. Having a larger floor area means that it's easier to find what you need and you have room to pull it out. There's nothing worse than having to carve a path through a jungle of props to find that chair that you think is in the far corner of the room.
Where you use a permanent stage (not one that is built just for the performance), can you store your flats and set at the back of the stage?
Keep a detailed list of what you have and where it's stored. Don't fall into the trick of having to spend money on buying a new item just because you can't find that microphone or pair of shoes that you know are packed away somewhere.
Finally, beg, borrow (but don't steal)
If the reality is that you have a miniscule amount of storage space or even none at all, why not borrow what you need for each performance. This could be from:
your local theatre
your show sponsor
other amateur dramatics groups
If you need a sofa for a show, can your lighting technician's Great Aunt Phyllida lend you hers? Does your venue come with the option of providing lights and sound? Could the cast provide their own costume?
The main downside to this option is the added expense if you have to pay a hire fee.
*
Storage doesn't have to be a problem if you stay organised and a little ruthless.