8th June 2018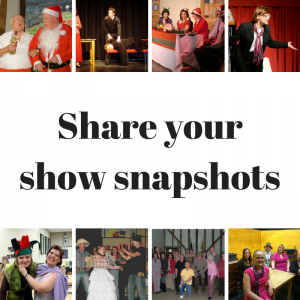 One of the best parts of running Murdering The Text is getting to see how each group makes our play their own. That's why we love to see photos of your rehearsals and shows.
If you're happy for us to display your photos, then send them in and we'll add them to the gallery on our Facebook page.
8th May 2018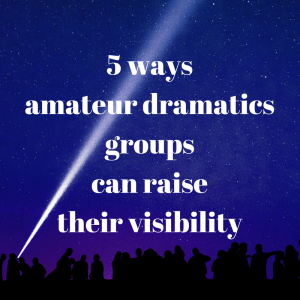 It's easy for any business or organisation to disappear in the sea of social media or reams of business directories, and it can be just the same for an amateur dramatics group.
So how do you keep your group visible in the eyes of your existing audience and raise that visibility even more to attract new audience members too?
1. Local Press
Utilise your local media contacts, newspapers or radio, to get regular mentions for not only your shows but also:
any fundraising events you hold
castings for your next show and requests for non-acting help
member news
Find stories for the press that will keep your group firmly in the minds of their readers or listeners.
2. Website
With your own website, there's no algorithms to worry about. You control exactly what appears there. Take advantage of your own slice of the internet by updating it regularly with:
all those press mentions (see point 1)
group news
show details and photos
requests for help and sponsorship
group history and photo archive
subscription to your mailing list
and of course your box office to sell show tickets.
Don't forget to publicise your website to bring traffic to it though, which brings me neatly onto point 3.
3. Social media
There are all kind of social media sites out there to choose from. Use the one (or ones) that suit you and your audience best.
On Facebook you can have a page to publicise your group (linked to your website of course), and set up a group for members too.
Twitter is excellent for getting all your news out there and with a now increased wordcount, it's easier than ever to craft an attractive tweet. For the best chance of a retweet or interaction, add an image, a video, a link or a hashtag (or a combination of 2 or more of those).
Instagram has an incredible following and with its visual element, it's a perfect fit for a performance group.
Take advantage of YouTube and video's increasing popularity by using this social media platform to post behind-the-scenes videos, guided tours, rehearsal scenes and cast interviews.
There are plenty of other social media sites out there too, including amateur dramatics related websites such as Sardines Magazine and amdram.co.uk
4. Connect with your community
I'm sure you already leave show posters with your local shops but why not reach out to your local community for:
sponsorship and advertising – would your local supermarket provide food supplies for your show buffet, or a nearby printer print your programmes, in return for a mention as the show's sponsor or an advert in all your publicity material?
Could you use dancers from your local dance school in your pantomime?
Would a local shop sell show tickets for you?
Have a look at the kind of shops and organisation that exist in your community to see how your group and they could work together.
5. Newsletter
If you send out a newsletter, either in print or by email, ask your mailing list subscribers to pass on newsletters to anyone they think might be interested in the group, either as audience or member.
Ask for help too. Who knows which of your mailing list subscribers might have that spare fold-away bed you need for your next production, or be willing to act as your show photographer?
And as always, don't forget to mention your website and social media links too.
*
Don't allow your group to get lost in the crowd. Keep on shouting about your shows and attracting the audience you deserve.
14th April 2018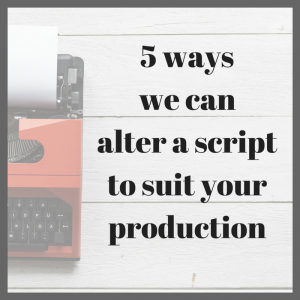 At Murdering The Text, we aim to do all we can to help you with your murder mystery fundraisers so over the years, we've made customer-requested alterations to many of our scripts.
If you want to buy one of our murder mystery scripts but they're not quite the right fit for your cast or event, here are just five of the ways we can alter them to suit:
1. Cut down the number of characters
When we originally wrote The Blunt End for a high school in the south of England, they asked us to write for a much larger cast than usual so that all of their interested pupils could take part. The resulting cast added up to 15 named characters and additional performers too.
A couple of years later we were approached by a group who loved the idea of the play but had a more modest cast. We took a fresh look at the script and reduced the cast down to a suitable 8 characters. We now offer this reduced cast version of The Blunt End in our catalogue of plays.
2. Change the gender of characters
The Waxworks of Horror was originally written with a cast of 2 female and 3 male actors (with an additional screaming individual sprinting across the stage). When a long time customer came to us with the problem of no available male actors, we altered the play to have an all-female cast. This version is now available for purchase on request.
3. Fit your stage
Having problems fitting one of our plays to your stage? Perhaps you have limited stage space or entrances. Forward us your stage layout with possible exits and access points, and we'll alter the script to suit your venue. It might even be that you can't fit or transport certain furniture items onto your stage. We'll think up a new list of furniture to suit.
4. Alter the dialogue
Whether you feel a piece of dialogue is too naughty or otherwise unsuitable for your audience, or you want to add in a couple of your own jokes or a local mention, we're happy to help. Perhaps one of your actors wants a smaller part, or you'd like to add in a new character. Whatever the reason, we'll readily rewrite sections of our play to suit your cast and production.
5. Scripted reveal
We like to think that the ad-libbed quality of the question time, when the audience interrogates the suspects, adds an excellent opportunity for your cast to show their knowledge of their character and make the production unique to your group but if you'd prefer to have a scripted reveal, perhaps delivered by a detective-type figure, then we're happy to supply this as part of your event pack.
Get in touch
If you want to make alterations to any of our scripts, then please feel free to drop us an email. Any alteration is free of charge and made in discussion with you.