16th March 2018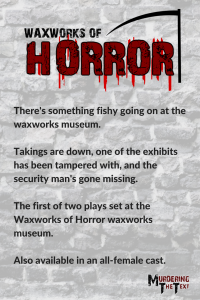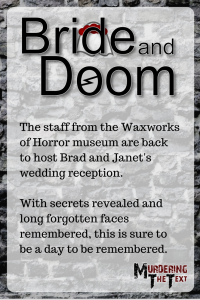 I know, I know, the weather hasn't even turn spring-like yet but planning your autumn production now leaves you with plenty of time to get things organised.
So, getting back to my original question, is it too early to plan for a Halloween murder mystery? I say, "No!" and here's how we can help.
We have two plays that would be ideal for a spooky whodunnit, Waxworks of Horror and Bride and Doom. Both are set in a waxworks museum that is reluctantly staffed by a handful of unlikely characters (there's a vampire, a zombie…).
Get in touch to order a reading copy today.
18th February 2018

Our newest play, A Brush, with Death has finally arrived on our murder mystery plays page.
Set in the 1980s, A Brush, with Death takes us back to the Hotel Tarantella, the original crime scene of our first ever murder mystery play, The Tangled Web.
A Brush, with Death had its first outing earlier this month in York, performed by the Dringhouses Dramatic Society who also performed the original show of The Tangled Web.
DDS chairman Duncan Savage told me, "The whole evening was a fund raising evening with a supper, so the audience were sat round tables which is good to write up their detective notes on. There was much laughter from the audience. We enjoyed doing the play, and from the audience we have spoken to they also enjoyed it and ask when we are doing another one. For the first time we had sold out all tickets a week before the show and had a long waiting list for returns."
By the way, if you do have a look at the play page for A Brush, with Death, you may well see a familiar face on the poster.
9th February 2018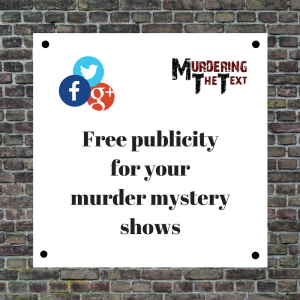 Here at Murdering The Text, our service doesn't come to an end once you've purchased your murder mystery event pack.
We want your production to be an outstanding success just as much as you do, so we'll happily publicise your show for free on our website and social media too.
Supply us with the details of your show, including your box office, and we'll shout about it on Facebook, Twitter, Google+ and post a piece here on our website too.
Free publicity! What more could you ask for?